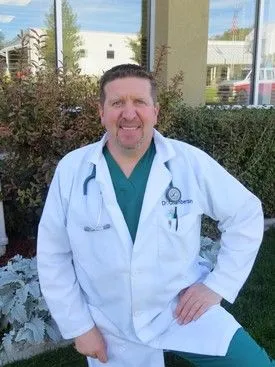 Aaron Chamberlain, DVM
Dr. Chamberlain graduated from the University of California, Davis School of Veterinary Medicine in 2001. In addition, he holds a Masters of Science degree in Agriculture with an emphasis in Epidemiology. After graduating from Veterinary School, he took his first job in the Magic Valley in Southern Idaho. There he worked primarily with dogs, cats, dairy and beef cattle. In 2005, he and his family moved to Utah where he began working at Lehi Animal Hospital. He and his wife, Jennifer, became the owners of Lehi Animal Hospital in 2009, fulfilling a long awaited goal. In 2020, He and his wife moved Lehi Animal Hospital from Main Street in Lehi to 1100 West and Pioneer Crossing to better serve their clients, patients, and employees.
Dr. Chamberlain loves working with animals and always has. He strives to keep his healthy patients healthy and help others get well, making sure each patient gets the best care possible. He enjoys staying updated on the newest medical techniques and procedures by reading often and attending continued education opportunities regularly. Much of his continuing education is focused on his interest in Orthopedic and General Surgery. Dr. Chamberlain recognizes the importance of client education. He spends the necessary time in each office visit to be sure his clients understand the diagnosis and prognosis of their pet.
Outside of work, Dr. Chamberlain enjoys spending time with his wife, who is his best friend. They love to travel together and just be together. He has five children, who he loves very much. He loves the outdoors, traveling, off-roading, fishing and hunting.